Digital Experience
28. April 2022 By Laura Schöning
Using the best-of-breed strategy to create the optimal digital experience platform
What's generally understood about the 'best-of-breed' strategy?
You've probably all heard the phrase 'cherry-picking'. This saying can be very well applied to the best-of-breed strategy, because this strategy makes you a cherry picker.
What lies behind 'best-of-breed' is a philosophy that aims to find and integrate the best possible solutions for every area of software application within a company. Therefore, this approach often combines solutions from different manufacturing companies to find the best possible solution to an overall problem.
In doing so, the best-of-breed strategy clearly relies on modularity, which makes it possible to create a highly flexible, agile and customised system landscape. This strategy can be applied and pursued in a wide variety of business areas. Digital experience platforms can also benefit from this strategy.
Why best-of-breed?
The requirements for content management systems (CMS) have become increasingly demanding and far more complex as a result of the digital transformation. In the past, companies usually focused on their own website and had to fill it with suitable content for their own target group. Nowadays, this is by far not the only channel a company wants to use. The preference is to implement an omnichannel strategy – in other words, interaction on all channels. The entire customer journey should be mapped as seamlessly as possible to provide an optimal customer experience, so that customers feel they're in good hands with the company at every contact and touchpoint. This can also happen via a wide variety of devices, such as smartphones, which are available at any time and place by simply reaching into your pocket.
All of these new requirements can only be met by addressing a wide variety of data sources from different third-party systems, such as a shop system, a customer relation management system (CRM), with a digital asset management (DAM) system and a product information management system (PIM) or with more specialised solutions as well – such as analysis or personalisation software.
CMSs that follow the best-of-breed strategy usually offer suitable connectors that can be connected to the third-party systems listed in the previous section, among others.
The best-of-breed strategy can also be implemented with headless content management systems, which are currently the talk of the town. With this type of CMS, the data is output via what's called an application programming interface (API). Using the headless approach makes it easy to exchange and link data.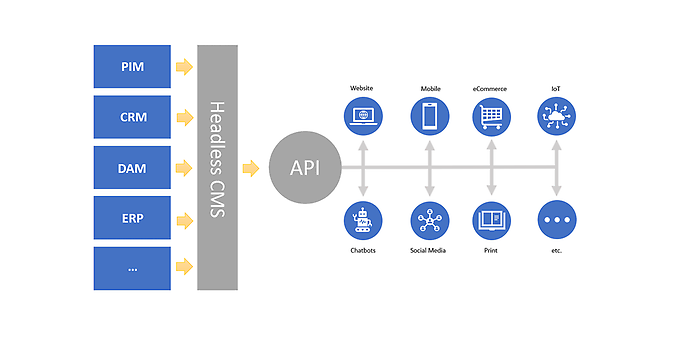 What are the benefits of the best-of-breed strategy?
Independence
The individual tools usually come from different providers, which means that you don't have to depend on a single manufacturer and its solutions.

Faster integration
In contrast to a suite solution, which involves company-wide effort, individual solutions can often be selected and implemented more quickly, as each stakeholder from each internal department doesn't necessarily have to be involved.

Customised needs
It's much easier to cover the stakeholders' different needs, as specialised solutions can be sought according to the area of application.

Flexibility and agility
By using API technology, the preferred tools can be integrated into the technology stack and can also be removed at will, modularly expanded or completely replaced if the market offers a new solution that perhaps suits your personal requirements even better. It also gives you the ability to react quickly to changing market requirements and adapt your stack accordingly, which can be a real competitive advantage.
An alternative to the best-of-breed strategy: best-of-breed vs. best-of-suite
The best-of-suite strategy is an alternative to the best-of-breed strategy. In contrast to the best-of-breed strategy, this approach already provides a holistic solution from a bundled tool set.
Gartner describes digital experience platforms as 'an integrated set of technologies based on a common platform that provides a broad audience with consistent, secure and personalised access to information and applications across a wide range of digital channels'.
As the partial solutions are essentially already calibrated to work together, the interaction of the individual components can sometimes run more smoothly within a suite and provides easier operation as a result. However, personalised adaptations can usually only be implemented with greater effort, as they require special customisation.
Communication with the manufacturer is another point that can be simplified with this approach, as you get everything from a single source, and therefore only have to get in touch with one contact person. Conversely, it's precisely this point that removes a bit of independence.
Conclusion
best-of-breed, best-of-suite or rather best-of-both
This is precisely the question that IT managers must ask themselves when designing their IT infrastructure. Whether the digital experience platform is now individually assembled with a best-of-breed strategy or a complete DXP is implemented as a software suite depends on various factors. A best-of-breed solution isn't necessarily the best solution for every problem. Both approaches come with advantages as wells as disadvantages. In order to find an answer to this question and avoid making the wrong decisions, it's essential to analyse your own requirements and goals to develop a suitable strategy.
To work out these requirements, you can conduct what's called an Interaction Room workshop, which is inspired by the Design Thinking approach.
Best fit = individual problem and creating value
Also interesting:
You can find more exciting blog posts from the adesso world in our previous blog posts.